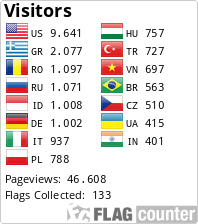 This clock is based on an ATMega644 micro controller. It's user interface consists of a 4×20 characters LCD and navigation tactile push buttons. It provides real time clock with date and ambient temperature and can be programmed for a repeating alarm on a weekday basis. This version is still a beta one, so I'm still working on it.
The time is presented on the top 3 rows of the LCD and a complete data for time, date and temperature scrolls on the lower 4th row of the screen. There is also a bit of information (i.e. a star character is appeared on the left if the alarm is enabled and the "am-pm" info on the right.
The temperature is presented in Celsius centigrade and appears alternately with the time information every few seconds.
The project was constructed on a prototype pcb by hand. The small unit on the left picture is a machined piece of pcb on a LPKF CNC and supports the RTC and temperature sensor, based on ST's M41T80 and TI's LM75 chips. There is also a small piece of pcb holding the buttons and a buzzer for the audible signals (alarms and function or button beeps.
The code includes menus for adjusting the time, the date and the alarms schedule on a weekly basis. The Alexander Brevig's MenuBackend library helped a lot building the menus section.
My YouTube channel:
https://www.youtube.com/channel/UCjd0xwRz7vinbH4ihhJV2Kw
The code (very "beta" version, never finished):
#include <avr/eeprom.h>
#include <EEPROM.h>
#include <Wire.h>
#include <LiquidCrystal.h>
#include <TimerOne.h>
#include <MsTimer2.h>
#include <MenuBackend.h>
#include <AnalogDebounce.h>
#include <stdio.h>
#include <string.h>
#include <stdlib.h>
// ===================================================================
#if defined(__AVR_ATmega644P__)
#define LM75_ADDRESS 0x4F
#else
#define LM75_ADDRESS 0x48
#endif
#define M41T80_I2C_ADDRESS 0x68
#define M24C01_I2C_ADDRESS 0x57
#define M24C01_I2C_READ_ADDRESS 0xAF
#if defined(__AVR_ATmega644P__)
#define ANALOG_KEYS A7
#define BACKLIT_PIN 15
#define BUZZER_PIN 4
#else
#define ANALOG_KEYS A0
#define BUZZER_PIN 10
#endif
#define DELAY_1 1000
#define DELAY_2 2000
#define DELAY_3 3000
#define Row0 0
#define Row1 1
#define Row2 2
#define Row3 3
#define A_ 10
#define B_ 11
#define C_ 12
#define D_ 13
#define E_ 14
#define F_ 15
#define G_ 16
#define H_ 17
#define I_ 18
#define J_ 19
#define K_ 20
#define L_ 21
#define M_ 22
#define N_ 23
#define O_ 24
#define P_ 25
#define Q_ 26
#define R_ 27
#define S_ 28
#define T_ 29
#define U_ 30
#define V_ 31
#define W_ 32
#define X_ 33
#define Y_ 34
#define Z_ 35
#define BLANK 36
#define SET 254
#define RESET 206
#define ARROW 247
#define B 0x20
#define INTERVAL_SAMPLE 10
#define N_DECIMAL_POINTS_PRECISION (10) // n = 3. Three decimal points.
#define ALARM_HOUR_EEPROM_ADDRESS 0x00
#define ALARM_MINUTE_EEPROM_ADDRESS 0x02
#define ALARM_FLAG_EEPROM_ADDRESS 0x05
// ===================================================================
#define RIGHT 1
#define UP 2
#define DOWN 3
#define LEFT 4
#define SELECT 5
#define ESCAPE 6
#define NONE 0
// ===================================================================
const int transmit_pin = 12;
byte msecond, second, minute, hour, dayOfWeek, dayOfMonth, month, year;
int hourBuffer, minuteBuffer, secondBuffer, dayOfWeekBuffer, dateBuffer, monthBuffer, yearBuffer = 0;
byte alarmDayOfWeek, alarmHour, alarmMinute;
int alarmDayOfWeekBuffer, alarmHourBuffer, alarmMinuteBuffer = 0;
boolean alarmFlag = 0;
char timeBuffer[40];
char dataBuffer[60];
char *Mon[] = {
"JAN","FEB","MAR","APR","MAY","JUN","JUL","AUG","SEP","OCT","NOV","DEC"};
char *Day[] = {
"SUN","MON","TUE","WED","THU","FRI","SAT"};
char *DAY[] = {
"MO,","TU,","WE,","TH,","FR,","SA,","SU"," "};
boolean colonFlag = false;
boolean initial = 0;
int BUTTON, Button;
float temperature;
float farenheit;
boolean bigNumbers = 0;
unsigned long previousMillis = 0;
unsigned long displayMillis = 0;
boolean showInterval;
long interval = 500;
int integerPart;
int decimalPart;
const int MESSAGE_LENGTH = sizeof(timeBuffer);
const int DATA_LENGTH = sizeof(dataBuffer);
const int DISPLAY_WIDTH = 20;
int g_nPosition = 0;
int line = 1;
typedef struct
{
boolean MONDAY_ALARM_FLAG :
1;
boolean TUESDAY_ALARM_FLAG :
1;
boolean WEDNESDAY_ALARM_FLAG :
1;
boolean THURSDAY_ALARM_FLAG :
1;
boolean FRIDAY_ALARM_FLAG :
1;
boolean SATURDAY_ALARM_FLAG :
1;
boolean SUNDAY_ALARM_FLAG :
1;
}
flags;
flags FLAGS;
int buildFlags;
// ===================================================================
#if defined(__AVR_ATmega644P__)
LiquidCrystal lcd(3, 1, 0, 23, 22, 21, 20);
#else
LiquidCrystal lcd(8, 9, 4, 5, 6, 7);//
#endif
AnalogDebounce Buttons(ANALOG_KEYS, readButtons);
// ===================================================================
// The routine to create the custom characters in the LCD
void DefineLargeChar()
{
// Define Custom Characters
uint8_t cc1[8] = { // Custom Character 1
B11100,
B11110,
B11111,
B11111,
B11111,
B11111,
B11111,
B11111
};
uint8_t cc2[8] = { // Custom Character 2
B11111,
B11111,
B11111,
B11111,
B11111,
B00000,
B00000,
B00000
};
uint8_t cc3[8] = { // Custom Character 3
B00000,
B00000,
B00000,
B11111,
B11111,
B11111,
B11111,
B11111
};
uint8_t cc4[8] = { // Custom Character 4
B11111,
B11111,
B11111,
B11111,
B11111,
B11111,
B01111,
B00111
};
/*
uint8_t cc4[8] = { // Custom Character 4
B00000,
B00000,
B00000,
B00000,
B00000,
B00000,
B00000,
B00000
};
*/
uint8_t cc5[8] = { // Custom Character 5
B11111,
B11111,
B11111,
B11111,
B11111,
B11111,
B00000,
B00000
};
uint8_t cc6[8] = { // Custom Character 6
B00000,
B11111,
B11111,
B11111,
B11111,
B11111,
B00000,
B00000
};
uint8_t cc7[8] = { // Custom Character 7
B00000,
B11100,
B11110,
B11111,
B11111,
B11111,
B11111,
B11111
};
/*
uint8_t cc7[8] = { // Custom Character 7
B00000,
B11111,
B11111,
B11111,
B11111,
B11111,
B11111,
B11111
};
*/
uint8_t cc8[8] = { // Custom Character 8
B11111,
B11111,
B11111,
B11111,
B11111,
B11111,
B11111,
B11111
};
// send custom characters to the display
lcd.createChar(1,cc1);
lcd.createChar(2,cc2);
lcd.createChar(3,cc3);
lcd.createChar(4,cc4);
lcd.createChar(5,cc5);
lcd.createChar(6,cc6);
lcd.createChar(7,cc7);
lcd.createChar(8,cc8);
}
// ===================================================================
// 0 1 2 3 4 5 6 7 8 9 A B C D E F G H I J K L M N O P Q R S T U V W X Y Z BLANK
char bn1[]={
8,2,1, 2,1,B, 2,2,1, 2,2,1, 3,B,8, 8,2,2, 8,2,2, 2,2,8, 8,2,1, 8,2,1, 8,2,1, 8,2,1, 3,2,2, 8,2,1, 8,2,2, 8,2,2, 8,2,1, 8,B,8, B,8,B, B,B,8, 8,B,8, 8,B,B, 8,3,1, 8,B,1, 8,2,1, 8,2,1, 8,2,1, 8,2,1, 8,2,5, 2,8,2, 8,B,8, 8,B,8, 8,B,8, 8,B,8, 8,B,8, 2,2,1, B,B,B};
char bn2[]={
8,B,8, B,8,B ,3,2,2, B,6,1, 4,3,8, 5,6,7, 8,6,7, B,3,2, 8,6,8, 5,6,8, 8,6,8, 8,6,1, 8,B,B, 8,B,8, 8,6,B, 8,6,B, 8,B,3, 8,6,8, B,8,B, B,B,8, 8,6,2, 8,B,B, 8,B,8, 8,4,8, 8,B,8, 8,2,2, 8,B,8, 8,3,8, 2,2,1, B,8,B, 8,B,8, 8,B,8, 8,B,8, B,6,B, 2,3,2, B,6,B, B,B,B};
char bn3[]={
4,3,8, 3,8,3, 8,3,3, 3,3,8, B,B,8, 4,3,8, 4,3,8, B,8,B, 4,3,8, B,B,8, 8,B,8, 8,3,8, 4,3,3, 8,3,8, 8,3,3, 8,B,B, 4,3,8, 8,B,8, B,8,B, 4,8,B, 8,B,1, 8,3,3, 8,B,8, 8,B,8, 4,3,8, 8,B,B, 4,3,7, 8,B,1, 4,3,8, B,8,B, 4,3,8, 2,3,2, 4,2,8, 8,B,8, B,8,B, 4,3,3, B,B,B};
/*
// Array index into parts of big numbers. Numbers consist of 9 custom characters in 3 lines
// 0 1 2 3 4 5 6 7 8 9 A B C D E F
char bn1[]={1,2,1, 3,1,4, 2,2,1, 2,2,1, 1,4,1, 1,2,2, 1,2,2, 2,2,1, 1,2,1, 1,2,1, 1,2,1, 1,2,3, 3,2,2, 1,2,3, 1,2,2, 1,2,2};
char bn2[]={1,4,1, 4,1,4, 7,6,5, 6,6,1, 5,6,1, 5,6,7, 1,6,7, 4,4,1, 1,6,1, 5,6,1, 1,2,1, 1,2,1, 1,4,4, 1,4,1, 1,2,4, 1,2,4};
char bn3[]={1,3,1, 3,1,3, 1,3,3, 3,3,1, 4,4,1, 3,3,1, 1,3,1, 4,4,1, 1,3,1, 3,3,1, 1,4,1, 1,3,2, 2,3,3, 1,3,2, 1,3,3, 1,4,4};
*/
// ===================================================================
void printOneLetter(char letter, uint8_t position)
{
// Print position is hardcoded
// Line 1 of the one digit number
lcd.setCursor(position,0);
lcd.write(bn1[letter*3]);
lcd.write(bn1[letter*3+1]);
lcd.write(bn1[letter*3+2]);
// Line 2 of the one-digit number
lcd.setCursor(position,1);
lcd.write(bn2[letter*3]);
lcd.write(bn2[letter*3+1]);
lcd.write(bn2[letter*3+2]);
// Line 3 of the one-digit number
lcd.setCursor(position,2);
lcd.write(bn3[letter*3]);
lcd.write(bn3[letter*3+1]);
lcd.write(bn3[letter*3+2]);
}
// ===================================================================
void printOneNumber(uint8_t digit, uint8_t position)
{
// Print position is hardcoded
// Line 1 of the one digit number
lcd.setCursor(position,0);
lcd.write(bn1[digit*3]);
lcd.write(bn1[digit*3+1]);
lcd.write(bn1[digit*3+2]);
// Line 2 of the one-digit number
lcd.setCursor(position,1);
lcd.write(bn2[digit*3]);
lcd.write(bn2[digit*3+1]);
lcd.write(bn2[digit*3+2]);
// Line 3 of the one-digit number
lcd.setCursor(position,2);
lcd.write(bn3[digit*3]);
lcd.write(bn3[digit*3+1]);
lcd.write(bn3[digit*3+2]);
}
// ===================================================================
void printTwoNumber(uint8_t number, uint8_t position)//13
{
// Print position is hardcoded
int digit0; // To represent the ones
int digit1; // To represent the tens
digit0=number%10;
digit1=number/10;
// Line 1 of the two-digit number
lcd.setCursor(position,0);
lcd.write(bn1[digit1*3]);
lcd.write(bn1[digit1*3+1]);
lcd.write(bn1[digit1*3+2]);
lcd.write(B); // Blank
lcd.write(bn1[digit0*3]);
lcd.write(bn1[digit0*3+1]);
lcd.write(bn1[digit0*3+2]);
// Line 2 of the two-digit number
lcd.setCursor(position,1);
lcd.write(bn2[digit1*3]);
lcd.write(bn2[digit1*3+1]);
lcd.write(bn2[digit1*3+2]);
lcd.write(B); // Blank
lcd.write(bn2[digit0*3]);
lcd.write(bn2[digit0*3+1]);
lcd.write(bn2[digit0*3+2]);
// Line 3 of the two-digit number
lcd.setCursor(position,2);
lcd.write(bn3[digit1*3]);
lcd.write(bn3[digit1*3+1]);
lcd.write(bn3[digit1*3+2]);
lcd.write(B); // Blank
lcd.write(bn3[digit0*3]);
lcd.write(bn3[digit0*3+1]);
lcd.write(bn3[digit0*3+2]);
}
// ===================================================================
void printDot(uint8_t position)
{
lcd.setCursor(position, 2);
lcd.write (3);
}
// ===================================================================
void printColons(uint8_t position)
{
lcd.setCursor(position, 0);
lcd.write (3);
lcd.setCursor(position, 2);
lcd.write (6);
}
// ===================================================================
void printNoColons(uint8_t position)
{
lcd.setCursor(position, 0);
lcd.write (B);
lcd.setCursor(position, 2);
lcd.write (B);
}
// ===================================================================
MenuBackend menu = MenuBackend(menuUsed,menuChanged);
MenuItem menu_initial = MenuItem("SHOW");
MenuItem menu_1 = MenuItem("SET TIME");
MenuItem menu_2 = MenuItem("SET DATE");
MenuItem menu_3 = MenuItem("SET ALARM");
// ===================================================================
void menuUsed(MenuUseEvent used)
{
lcd.clear();
MenuItem (used.item.getName());//back to Main
// menu.toRoot();
MenuItem &getRoot();
}
// ===================================================================
void menuChanged(MenuChangeEvent changed)
{
int i;
int cursorPosition;
MenuItem newMenuItem=changed.to; //get the destination menu
// ===================================================================
// ===================================================================
if(newMenuItem.getName()==menu.getRoot())
{
lcd.clear();
splashScreen();
}
// ===================================================================
else if(newMenuItem.getName()=="SHOW")
{
lcd.clear();
messageScreen();
}
// ===================================================================
else if(newMenuItem.getName()=="SET TIME")//
{
getDateM41T80();
if(BUTTON == SELECT)
{
lcd.clear();
lcd.print("1. SET TIME ");
delay(DELAY_2);
lcd.clear();
displayTime(6,Row1);
cursorPosition = 7;
lcd.setCursor(cursorPosition,1);
lcd.blink();
do
{
if(BUTTON == RIGHT)
{
BUTTON = NONE;
cursorPosition++;
if(cursorPosition == 14) cursorPosition = 7;
if(cursorPosition == 11) cursorPosition = 13;
if(cursorPosition == 8) cursorPosition = 10;
lcd.setCursor(cursorPosition,1);
beepBuzzer(1150,20);
}
if(BUTTON == LEFT)
{
BUTTON = NONE;
cursorPosition–;
if(cursorPosition == 6) cursorPosition = 13;
if(cursorPosition == 12) cursorPosition = 10;
if(cursorPosition == 9) cursorPosition = 7;
lcd.setCursor(cursorPosition,1);
beepBuzzer(1150,20);
}
if((BUTTON == UP) && (cursorPosition == 7))
{
BUTTON = NONE;
hourBuffer = hour;
hourBuffer++;
beepBuzzer(1150,20);
if(hourBuffer > 23) hourBuffer = 0;
if(hourBuffer < 10)
{
lcd.setCursor(cursorPosition-1,1); //7
lcd.print("0");
}
lcd.print(hourBuffer,DEC);
lcd.setCursor(7,1); //7
if(hourBuffer > 9)
{
lcd.setCursor(6,1); //6
lcd.print(hourBuffer,DEC);
lcd.print(":");
lcd.setCursor(7,1);
}
hour = hourBuffer;
}
if((BUTTON == UP) && (cursorPosition == 10))
{
BUTTON = NONE;
minuteBuffer = minute;
minuteBuffer++;
beepBuzzer(1150,20);
if(minuteBuffer > 59) minuteBuffer = 0;
if(minuteBuffer < 10)
{
lcd.setCursor(cursorPosition-1,1); //7
lcd.print("0");
}
lcd.print(minuteBuffer,DEC);
lcd.setCursor(10,1); //10
if(minuteBuffer > 9)
{
lcd.setCursor(9,1); //9
lcd.print(minuteBuffer,DEC);
lcd.print(":");
lcd.setCursor(10,1);
}
minute = minuteBuffer;
}
if((BUTTON == UP) && (cursorPosition == 13))
{
BUTTON = NONE;
secondBuffer = second;
secondBuffer++;
beepBuzzer(1150,20);
if(secondBuffer > 59) secondBuffer = 0;
if(secondBuffer < 10)
{
lcd.setCursor(cursorPosition-1,1); //7
lcd.print("0″);
}
lcd.print(secondBuffer,DEC);
lcd.setCursor(13,1); //10
if(secondBuffer > 9)
{
lcd.setCursor(12,1); //9
lcd.print(secondBuffer,DEC);
lcd.print(" ");
lcd.setCursor(13,1);
}
second = secondBuffer;
}
// ===================================================================
if((BUTTON == DOWN) && (cursorPosition == 7))
{
BUTTON = NONE;
hourBuffer = hour;
hourBuffer–;
beepBuzzer(1150,20);
if(hourBuffer <= 0) hourBuffer = 23;
if(hourBuffer < 10)
{
lcd.setCursor(cursorPosition-1,1); //7
lcd.print("0");
}
lcd.print(hourBuffer,DEC);
lcd.setCursor(7,1); //7
if(hourBuffer > 9)
{
lcd.setCursor(6,1); //6
lcd.print(hourBuffer,DEC);
lcd.print(":");
lcd.setCursor(7,1);
}
hour = hourBuffer;
}
if((BUTTON == DOWN) && (cursorPosition == 10))
{
BUTTON = NONE;
minuteBuffer = minute;
minuteBuffer–;
beepBuzzer(1150,20);
if(minuteBuffer <= 0) minuteBuffer = 59;
if(minuteBuffer < 10)
{
lcd.setCursor(cursorPosition-1,1); //7
lcd.print("0");
}
lcd.print(minuteBuffer,DEC);
lcd.setCursor(10,1); //10
if(minuteBuffer > 9)
{
lcd.setCursor(9,1); //9
lcd.print(minuteBuffer,DEC);
lcd.print(":");
lcd.setCursor(10,1);
}
minute = minuteBuffer;
}
if((BUTTON == DOWN) && (cursorPosition == 13))
{
BUTTON = NONE;
secondBuffer = second;
secondBuffer–;
beepBuzzer(1150,20);
if(secondBuffer <= 0) secondBuffer = 59;
if(secondBuffer < 10)
{
lcd.setCursor(cursorPosition-1,1); //7
lcd.print("0″);
}
lcd.print(secondBuffer,DEC);
lcd.setCursor(13,1); //10
if(secondBuffer > 9)
{
lcd.setCursor(12,1); //9
lcd.print(secondBuffer,DEC);
lcd.print(" ");
lcd.setCursor(13,1);
}
second = secondBuffer;
}
}
while(BUTTON != SELECT);
BUTTON = NONE;
// ===================================================================
setHourM41T80();
beepBuzzer(1150,20);
lcd.noBlink();
lcd.clear();
lcd.print(" HOUR IS SET! ");
delay(DELAY_2);
lcd.clear();
lcd.print("1. SET TIME ");
delay(DELAY_1);
}
}
// ===================================================================
// ===================================================================
else if(newMenuItem.getName()=="SET DATE")
{
getDateM41T80();
dayOfWeekBuffer = dayOfWeek;
dateBuffer = dayOfMonth;
monthBuffer = month;
yearBuffer = year;
if(BUTTON == SELECT)
{
lcd.clear();
lcd.print("2. SET DATE ");
delay(DELAY_2);
lcd.clear();
displayDate(2,Row1);
cursorPosition = 4;
lcd.setCursor(cursorPosition,1);
lcd.blink();
do
{
if(BUTTON == RIGHT)
{
BUTTON = NONE;
beepBuzzer(1150,20);
cursorPosition++;
if(cursorPosition == 5) cursorPosition = 7;
if(cursorPosition == 8) cursorPosition = 11;
if(cursorPosition == 12) cursorPosition = 16;
if(cursorPosition == 17) cursorPosition = 4;
lcd.setCursor(cursorPosition,1);
}
if(BUTTON == LEFT)
{
BUTTON = NONE;
beepBuzzer(1150,20);
cursorPosition–;
if(cursorPosition == 3) cursorPosition = 16;
if(cursorPosition == 15) cursorPosition = 11;
if(cursorPosition == 10) cursorPosition = 7;
if(cursorPosition == 6) cursorPosition = 4;
lcd.setCursor(cursorPosition,1);
}
if((BUTTON == UP) && (cursorPosition == 4))
{
BUTTON = NONE;
beepBuzzer(1150,20);
dayOfWeekBuffer++;
if(dayOfWeekBuffer > 6) dayOfWeekBuffer = 0;
dayOfWeek = dayOfWeekBuffer;
lcd.setCursor(2,1);
lcd.print(Day[dayOfWeek]);
lcd.setCursor(4,1);
}
if((BUTTON == UP) && (cursorPosition == 7))
{
BUTTON = NONE;
beepBuzzer(1150,20);
dateBuffer++;
if(dateBuffer > 31) dateBuffer = 1;
if(dateBuffer > 9)
{
lcd.setCursor(6,1);
lcd.print(dateBuffer,DEC);
}
if(dateBuffer < 10)
{
lcd.setCursor(6,1);
lcd.print("0");
lcd.print(dateBuffer,DEC);
}
lcd.setCursor(7,1);
}
dayOfMonth = dateBuffer;
if((BUTTON == UP) && (cursorPosition == 11))
{
BUTTON = NONE;
beepBuzzer(1150,20);
monthBuffer++;
if(monthBuffer > 11) monthBuffer = 0;
month = monthBuffer;
lcd.setCursor(9,1);
lcd.print(Mon[month]);
lcd.setCursor(11,1);
}
if((BUTTON == UP) && (cursorPosition == 16))
{
BUTTON = NONE;
beepBuzzer(1150,20);
yearBuffer++;
if(yearBuffer > 99) yearBuffer = 0;
if(yearBuffer < 10)
{
lcd.setCursor(15,1);
lcd.print("0");
lcd.print(yearBuffer,DEC);
}
else if(yearBuffer > 9)
{
lcd.setCursor(15,1);
lcd.print(yearBuffer,DEC);
}
lcd.setCursor(16,1);
}
year = yearBuffer;
if((BUTTON == DOWN) && (cursorPosition == 4))
{
BUTTON = NONE;
beepBuzzer(1150,20);
dayOfWeekBuffer–;
if(dayOfWeekBuffer < 0)
{
dayOfWeekBuffer = 6;
}
dayOfWeek = dayOfWeekBuffer;
lcd.setCursor(2,1);
lcd.print(Day[dayOfWeek]);
lcd.setCursor(4,1);
}
if((BUTTON == DOWN) && (cursorPosition == 7))
{
BUTTON = NONE;
beepBuzzer(1150,20);
dateBuffer–;
if(dateBuffer < 1)
{
dateBuffer = 31;
}
if(dateBuffer > 9)
{
lcd.setCursor(6,1);
lcd.print(dateBuffer,DEC);
}
if(dateBuffer < 10)
{
lcd.setCursor(6,1);
lcd.print("0");
lcd.print(dateBuffer,DEC);
}
lcd.setCursor(7,1);
}
dayOfMonth = dateBuffer;
if((BUTTON == DOWN) && (cursorPosition == 11))
{
BUTTON = NONE;
beepBuzzer(1150,20);
monthBuffer–;
if(monthBuffer < 0)
{
monthBuffer = 11;
}
month = monthBuffer;
lcd.setCursor(9,1);
lcd.print(Mon[month]);
lcd.setCursor(11,1);
}
if((BUTTON == DOWN) && (cursorPosition == 16))
{
BUTTON = NONE;
beepBuzzer(1150,20);
yearBuffer–;
if(yearBuffer < 0)
{
yearBuffer = 99;
}
if(yearBuffer < 10)
{
lcd.setCursor(15,1);
lcd.print("0″);
lcd.print(yearBuffer,DEC);
}
else if(yearBuffer > 9)
{
lcd.setCursor(15,1);
lcd.print(yearBuffer,DEC);
}
lcd.setCursor(16,1);
}
year = yearBuffer;
}
while(BUTTON != SELECT);
setDateM41T80();
lcd.noBlink();
beepBuzzer(1150,20);
lcd.clear();
lcd.print(" DATE IS SET! ");
delay(DELAY_2);
lcd.clear();
lcd.print("2. SET DATE ");
delay(DELAY_1);
}
}
// ===================================================================
// ===================================================================
else if(newMenuItem.getName()=="SET ALARM")
{
int setFlag;
if(BUTTON == SELECT)
{
initial = 0;
alarmHourBuffer = EEPROM.read(ALARM_HOUR_EEPROM_ADDRESS);
alarmMinuteBuffer = EEPROM.read(ALARM_MINUTE_EEPROM_ADDRESS);
buildFlags = EEPROM.read(ALARM_FLAG_EEPROM_ADDRESS);
if(alarmHourBuffer == 255) alarmHourBuffer = 0;
if(alarmMinuteBuffer == 255) alarmMinuteBuffer = 0;
if(buildFlags == B1111111) buildFlags = B11111110;
lcd.clear();
lcd.print("3. SET ALARM ");
delay(DELAY_2);
lcd.clear();
lcd.write(SET);
lcd.print("=SET");
lcd.setCursor(13,0);
lcd.write(RESET);
lcd.print("=RESET");
displayAlarmTime(7,Row0);
lcd.setCursor(0,2);
lcd.print("MO TU WE TH FR SA SU");
lcd.setCursor(0,3);
if((buildFlags & B10000000)==B10000000) {
lcd.write(SET);
FLAGS.MONDAY_ALARM_FLAG = 1;
}
else {
lcd.write(RESET);
FLAGS.MONDAY_ALARM_FLAG = 0;
}
lcd.setCursor(3,3);
if((buildFlags & B01000000)==B01000000) {
lcd.write(SET);
FLAGS.TUESDAY_ALARM_FLAG = 1;
}
else {
lcd.write(RESET);
FLAGS.TUESDAY_ALARM_FLAG = 0;
}
lcd.setCursor(6,3);
if((buildFlags & B00100000)==B00100000) {
lcd.write(SET);
FLAGS.WEDNESDAY_ALARM_FLAG = 1;
}
else {
lcd.write(RESET);
FLAGS.WEDNESDAY_ALARM_FLAG = 0;
}
lcd.setCursor(9,3);
if((buildFlags & B00010000)==B00010000) {
lcd.write(SET);
FLAGS.THURSDAY_ALARM_FLAG = 1;
}
else {
lcd.write(RESET);
FLAGS.THURSDAY_ALARM_FLAG = 0;
}
lcd.setCursor(12,3);
if((buildFlags & B00001000)==B00001000) {
lcd.write(SET);
FLAGS.FRIDAY_ALARM_FLAG = 1;
}
else {
lcd.write(RESET);
FLAGS.FRIDAY_ALARM_FLAG = 0;
}
lcd.setCursor(15,3);
if((buildFlags & B00000100)==B00000100) {
lcd.write(SET);
FLAGS.SATURDAY_ALARM_FLAG = 1;
}
else {
lcd.write(RESET);
FLAGS.SATURDAY_ALARM_FLAG = 0;
}
lcd.setCursor(18,3);
if((buildFlags & B00000010)==B00000010) {
lcd.write(SET);
FLAGS.SUNDAY_ALARM_FLAG = 1;
}
else {
lcd.write(RESET);
FLAGS.SUNDAY_ALARM_FLAG = 0;
}
cursorPosition = 8;
lcd.setCursor(cursorPosition,0);
lcd.blink();
do
{
if(BUTTON == RIGHT)
{
BUTTON = NONE;
beepBuzzer(1150,20);
delay(250);
cursorPosition++;
if(cursorPosition == 9) cursorPosition = 11;
if(cursorPosition == 12) cursorPosition = 8;
lcd.setCursor(cursorPosition,0);
}
if(BUTTON == LEFT)
{
BUTTON = NONE;
beepBuzzer(1150,20);
delay(250);
cursorPosition–;
if(cursorPosition == 7) cursorPosition = 11;
if(cursorPosition == 10) cursorPosition = 8;
lcd.setCursor(cursorPosition,0);
}
if((BUTTON == UP) && (cursorPosition == 8))
{
BUTTON = NONE;
alarmHourBuffer++;
beepBuzzer(1150,20);
if(alarmHourBuffer > 23) alarmHourBuffer = 0;
if(alarmHourBuffer < 10)
{
lcd.setCursor(cursorPosition-1,0); //7
lcd.print("0");
}
lcd.print(alarmHourBuffer,DEC);
lcd.setCursor(8,0); //7
if(alarmHourBuffer > 9)
{
lcd.setCursor(7,0); //6
lcd.print(alarmHourBuffer,DEC);
lcd.print(":");
lcd.setCursor(8,0);
}
alarmHour = alarmHourBuffer;
}
if((BUTTON == UP) && (cursorPosition == 11))
{
BUTTON = NONE;
alarmMinuteBuffer++;
beepBuzzer(1150,20);
if(alarmMinuteBuffer > 59) alarmMinuteBuffer = 0;
if(alarmMinuteBuffer < 10)
{
lcd.setCursor(cursorPosition-1,0);
lcd.print("0″);
}
lcd.print(alarmMinuteBuffer,DEC);
lcd.setCursor(11,0); //7
if(alarmMinuteBuffer > 9)
{
lcd.setCursor(10,0); //6
lcd.print(alarmMinuteBuffer,DEC);
lcd.print(" ");
lcd.setCursor(11,0);
}
alarmMinute = alarmMinuteBuffer;
}
if((BUTTON == DOWN) && (cursorPosition == 8))
{
BUTTON = NONE;
alarmHourBuffer–;
beepBuzzer(1150,20);
if(alarmHourBuffer < 0) alarmHourBuffer = 23;
if(alarmHourBuffer < 10)
{
lcd.setCursor(cursorPosition-1,0); //7
lcd.print("0");
}
lcd.print(alarmHourBuffer,DEC);
lcd.setCursor(8,0); //7
if(alarmHourBuffer > 9)
{
lcd.setCursor(7,0); //6
lcd.print(alarmHourBuffer,DEC);
lcd.print(":");
lcd.setCursor(8,0);
}
alarmHour = alarmHourBuffer;
}
if((BUTTON == DOWN) && (cursorPosition == 11))
{
BUTTON = NONE;
alarmMinuteBuffer–;
beepBuzzer(1150,20);
if(alarmMinuteBuffer < 0) alarmMinuteBuffer = 59;
if(alarmMinuteBuffer < 10)
{
lcd.setCursor(cursorPosition-1,0);
lcd.print("0″);
}
lcd.print(alarmMinuteBuffer,DEC);
lcd.setCursor(11,0); //7
if(alarmMinuteBuffer > 9)
{
lcd.setCursor(10,0); //6
lcd.print(alarmMinuteBuffer,DEC);
lcd.print(" ");
lcd.setCursor(11,0);
}
alarmMinute = alarmMinuteBuffer;
}
}
while(BUTTON != SELECT);
beepBuzzer(1150,20);
delay(DELAY_1);
lcd.setCursor(4,1);
lcd.print("ENABLE?");
lcd.setCursor(12,1);
lcd.print("YES ");
//=========================================================================DEBUG DEBUG DEBUG
// lcd.setCursor(0,1);
// lcd.print(buildFlags,BIN);
//=========================================================================DEBUG DEBUG DEBUG
while(BUTTON != SELECT)
{
lcd.setCursor(12,1);
lcd.blink();
if(BUTTON == RIGHT)
{
BUTTON = NONE;
beepBuzzer(1150,20);
lcd.setCursor(12,1);
lcd.print("YES");
alarmFlag = true;
i = 1;
delay(DELAY_1);
cursorPosition = 12;
}
if(BUTTON == LEFT)
{
BUTTON = NONE;
beepBuzzer(1150,20);
lcd.setCursor(12,1);
lcd.print("NO ");
alarmFlag = false;
i = 0;
delay(DELAY_1);
cursorPosition = 12;
}
cursorPosition = 0;
}
lcd.setCursor(cursorPosition,3);
beepBuzzer(1150,20);
if(BUTTON == SELECT)
{
BUTTON = NONE;
delay(500);
do
{
BUTTON = NONE;
delay(500);
if(BUTTON == RIGHT)
{
boolean s;
int counter;
if(counter > 6) counter = 0;
switch(counter)
{
case 0:
lcd.setCursor(0,3);
break;
case 1:
lcd.setCursor(3,3);
break;
case 2:
lcd.setCursor(6,3);
break;
case 3:
lcd.setCursor(9,3);
break;
case 4:
lcd.setCursor(12,3);
break;
case 5:
lcd.setCursor(15,3);
break;
case 6:
lcd.setCursor(18,3);
break;
}
BUTTON = NONE;
beepBuzzer(1150,20);
delay(DELAY_1);
switch(counter)
{
BUTTON = NONE;
case 0:
counter++;
while(BUTTON != RIGHT)
{
delay(500);
if(BUTTON == SELECT)
{
beepBuzzer(1150,20);
if(FLAGS.MONDAY_ALARM_FLAG == 0) {
FLAGS.MONDAY_ALARM_FLAG = 1;
lcd.setCursor(0,3);
lcd.write(SET);
lcd.setCursor(0,3);
buildFlags = (buildFlags | 0x00);
}
else if(FLAGS.MONDAY_ALARM_FLAG == 1) {
FLAGS.MONDAY_ALARM_FLAG = 0;
lcd.setCursor(0,3);
lcd.write(RESET);
lcd.setCursor(0,3);
buildFlags = (buildFlags ^ B10000000);
}
BUTTON = NONE;
delay(500);
}
}
break;
case 1:
counter++;
while(BUTTON != RIGHT)
{
delay(500);
if(BUTTON == SELECT)
{
beepBuzzer(1150,20);
if(FLAGS.TUESDAY_ALARM_FLAG == 0) {
FLAGS.TUESDAY_ALARM_FLAG = 1;
lcd.setCursor(3,3);
lcd.write(SET);
lcd.setCursor(3,3);
buildFlags = (buildFlags | 0x00);
}
else if(FLAGS.TUESDAY_ALARM_FLAG == 1) {
FLAGS.TUESDAY_ALARM_FLAG = 0;
lcd.setCursor(3,3);
lcd.write(RESET);
lcd.setCursor(3,3);
buildFlags = (buildFlags ^ B01000000);
}
BUTTON = NONE;
delay(500);
}
}
break;
case 2:
counter++;
while(BUTTON != RIGHT)
{
delay(500);
if(BUTTON == SELECT)
{
beepBuzzer(1150,20);
if(FLAGS.WEDNESDAY_ALARM_FLAG == 0) {
FLAGS.WEDNESDAY_ALARM_FLAG = 1;
lcd.setCursor(6,3);
lcd.write(SET);
lcd.setCursor(6,3);
buildFlags = (buildFlags | 0x00);
}
else if(FLAGS.WEDNESDAY_ALARM_FLAG == 1) {
FLAGS.WEDNESDAY_ALARM_FLAG = 0;
lcd.setCursor(6,3);
lcd.write(RESET);
lcd.setCursor(6,3);
buildFlags = (buildFlags ^ B00100000);
}
BUTTON = NONE;
delay(500);
}
}
break;
case 3:
counter++;
while(BUTTON != RIGHT)
{
delay(500);
if(BUTTON == SELECT)
{
beepBuzzer(1150,20);
if(FLAGS.THURSDAY_ALARM_FLAG == 0) {
FLAGS.THURSDAY_ALARM_FLAG = 1;
lcd.setCursor(9,3);
lcd.write(SET);
lcd.setCursor(9,3);
buildFlags = (buildFlags | 0x00);
}
else if(FLAGS.THURSDAY_ALARM_FLAG == 1) {
FLAGS.THURSDAY_ALARM_FLAG = 0;
lcd.setCursor(9,3);
lcd.write(RESET);
lcd.setCursor(9,3);
buildFlags = (buildFlags ^ B00010000);
}
BUTTON = NONE;
delay(500);
}
}
break;
case 4:
counter++;
while(BUTTON != RIGHT)
{
delay(500);
if(BUTTON == SELECT)
{
beepBuzzer(1150,20);
if(FLAGS.FRIDAY_ALARM_FLAG == 0) {
FLAGS.FRIDAY_ALARM_FLAG = 1;
lcd.setCursor(12,3);
lcd.write(SET);
lcd.setCursor(12,3);
buildFlags = (buildFlags | 0x00);
}
else if(FLAGS.FRIDAY_ALARM_FLAG == 1) {
FLAGS.FRIDAY_ALARM_FLAG = 0;
lcd.setCursor(12,3);
lcd.write(RESET);
lcd.setCursor(12,3);
buildFlags = (buildFlags ^ B00001000);
}
BUTTON = NONE;
delay(500);
}
}
break;
case 5:
counter++;
while(BUTTON != RIGHT)
{
delay(500);
if(BUTTON == SELECT)
{
beepBuzzer(1150,20);
if(FLAGS.SATURDAY_ALARM_FLAG == 0) {
FLAGS.SATURDAY_ALARM_FLAG = 1;
lcd.setCursor(15,3);
lcd.write(SET);
lcd.setCursor(15,3);
buildFlags = (buildFlags | 0x00);
}
else if(FLAGS.SATURDAY_ALARM_FLAG == 1) {
FLAGS.SATURDAY_ALARM_FLAG = 0;
lcd.setCursor(15,3);
lcd.write(RESET);
lcd.setCursor(15,3);
buildFlags = (buildFlags ^ B00000100);
}
BUTTON = NONE;
delay(500);
}
}
break;
case 6:
counter++;
while(BUTTON != RIGHT)
{
delay(500);
if(BUTTON == SELECT)
{
beepBuzzer(1150,20);
if(FLAGS.SUNDAY_ALARM_FLAG == 0) {
FLAGS.SUNDAY_ALARM_FLAG = 1;
lcd.setCursor(18,3);
lcd.write(SET);
lcd.setCursor(18,3);
buildFlags = (buildFlags | 0x00);
}
else if(FLAGS.SUNDAY_ALARM_FLAG == 1) {
FLAGS.SUNDAY_ALARM_FLAG = 0;
lcd.setCursor(18,3);
lcd.write(RESET);
lcd.setCursor(18,3);
buildFlags = (buildFlags ^ B00000010);
}
BUTTON = NONE;
delay(500);
}
}
break;
}
delay(500);
}
}
while(BUTTON != SELECT);
}
lcd.noBlink();
alarmHour = alarmHourBuffer;
alarmMinute = alarmMinuteBuffer;
//===================================================DEBUG DEBUG DEBUG
// lcd.setCursor(0,2);
// lcd.print(buildFlags,BIN);
//===================================================DEBUG DEBUG DEBUG
EEPROM.write(ALARM_HOUR_EEPROM_ADDRESS, alarmHour);
EEPROM.write(ALARM_MINUTE_EEPROM_ADDRESS, alarmMinute);
EEPROM.write(ALARM_FLAG_EEPROM_ADDRESS, buildFlags);
beepBuzzer(1150,20);
lcd.clear();
lcd.print(" ALARM IS SET! ");
delay(DELAY_2);
lcd.clear();
lcd.print("3. SET ALARM ");
delay(DELAY_1);
}
}
}
/*
boolean MONDAY_ALARM_FLAG : 1;
boolean TUESDAY_ALARM_FLAG : 1;
boolean WEDNESDAY_ALARM_FLAG : 1;
boolean THURSDAY_ALARM_FLAG : 1;
boolean FRIDAY_ALARM_FLAG : 1;
boolean SATURDAY_ALARM_FLAG : 1;
boolean SUNDAY_ALARM_FLAG : 1;
*/
// ===================================================================
void checkAlarm()
{
int i;
getDateM41T80();
i = EEPROM.read(ALARM_FLAG_EEPROM_ADDRESS);
if((alarmHour == hour) && (alarmMinute == minute) && (alarmFlag == true))// && ((FLAGS.MONDAY_ALARM_FLAG)|(FLAGS.TUESDAY_ALARM_FLAG)|(FLAGS.WEDNESDAY_ALARM_FLAG)|(FLAGS.THURSDAY_ALARM_FLAG)|(FLAGS.FRIDAY_ALARM_FLAG)|(FLAGS.SATURDAY_ALARM_FLAG)|(FLAGS.SUNDAY_ALARM_FLAG)))
{
if(FLAGS.MONDAY_ALARM_FLAG==1) quadBuzzer();
else if(FLAGS.TUESDAY_ALARM_FLAG==1) quadBuzzer();
else if(FLAGS.WEDNESDAY_ALARM_FLAG==1) quadBuzzer();
else if(FLAGS.THURSDAY_ALARM_FLAG==1) quadBuzzer();
else if(FLAGS.FRIDAY_ALARM_FLAG==1) quadBuzzer();
else if(FLAGS.SATURDAY_ALARM_FLAG==1) quadBuzzer();
else if(FLAGS.SUNDAY_ALARM_FLAG==1) quadBuzzer();
else {};
}
if(BUTTON == SELECT)
{
alarmFlag = false;
}
}
// ===================================================================
void quadBuzzer()
{
beepBuzzer(3150,80);
delay(50);
beepBuzzer(3150,80);
delay(50);
beepBuzzer(3150,80);
delay(50);
beepBuzzer(3150,80);
delay(50);
beepBuzzer(3150,80);
delay(500);
}
// ===================================================================
void setup()
{
int i;
Wire.begin();
lcd.begin(20, 4);
DefineLargeChar(); // Create the custom characters
lcd.clear();
delay(20);
pinMode(BUZZER_PIN, OUTPUT);
#if defined(__AVR_ATmega644P__)
pinMode(BACKLIT_PIN, OUTPUT);
digitalWrite(BACKLIT_PIN,HIGH);
#endif
Timer1.initialize(300000); //
Timer1.attachInterrupt( timer1Isr ); // attach the service routine here
MsTimer2::set(1000, timer2Isr); // 500ms period
MsTimer2::start();
// ===================================================================
//configure menu
menu.getRoot().add(menu_initial);
menu_initial.add(menu_1);
menu_1.add(menu_2);
menu_2.add(menu_3);
menu.toRoot();
lcd.clear();
splashScreen();
alarmHour = EEPROM.read(ALARM_HOUR_EEPROM_ADDRESS);
alarmMinute = EEPROM.read(ALARM_MINUTE_EEPROM_ADDRESS);
i = EEPROM.read(ALARM_FLAG_EEPROM_ADDRESS);
buildFlags = i;
if(i == 0x00) alarmFlag = false;
if(i == 0x01) alarmFlag = true;
}
// ===================================================================
void loop()
{
navigateMenus();
}
// ===================================================================
void measureTemperature()
{
Wire.beginTransmission(LM75_ADDRESS);
Wire.write(0x00);
Wire.requestFrom(LM75_ADDRESS, 2);
if (Wire.available())
{
int8_t msb = Wire.read();
int8_t lsb = Wire.read();
lsb = (lsb & 0x80 ) >> 7;
temperature = (msb + 0.5 * lsb)-3;
}
Wire.endTransmission();
farenheit = temperature*9/5+32;
}
// ===================================================================
void show()
{
if((second >= 5) && (second <= 10) || (second >= 30) && (second <= 35))
{
measureTemperature();
integerPart = (int)temperature;
decimalPart = ((int)(temperature*N_DECIMAL_POINTS_PRECISION)%N_DECIMAL_POINTS_PRECISION);
lcd.clear();
printTwoNumber(integerPart,1);
printDot(9);
lcd.setCursor(16,0);
lcd.print("O");
printOneNumber(decimalPart,11);
printOneLetter(C_,17);
}
else
{
lcd.clear();
printTwoNumber(hour,1);
printTwoNumber(minute,11);
unsigned long currentMillis = millis();
if(currentMillis – previousMillis > interval)
{
previousMillis = currentMillis;
colonFlag = !colonFlag;
}
if(colonFlag == false) printColons(9);
else if(colonFlag == true) printNoColons(9);
if(hour < 12)
{
lcd.setCursor(19,0);
lcd.print("A");
lcd.setCursor(19,1);
lcd.print("M");
}
else if(hour >= 12)
{
lcd.setCursor(19,0);
lcd.print("P");
lcd.setCursor(19,1);
lcd.print("M");
}
//DEBUG
//DEBUG
}
}
// ===================================================================
void printFloat(float value, int places)
{
int digit;
float tens = 0.1;
int tenscount = 0;
int i;
float tempfloat = value;
float d = 0.5;
if (value < 0) d *= -1.0;
for (i = 0; i < places; i++) d/= 10.0;
tempfloat += d;
if (value < 0) tempfloat *= -1.0;
while ((tens * 10.0) <= tempfloat)
{
tens *= 10.0;
tenscount += 1;
}
if (value < 0) lcd.print('-');
if (tenscount == 0) lcd.print(0, DEC);
for (i=0; i< tenscount; i++)
{
digit = (int) (tempfloat/tens);
lcd.print(digit, DEC);
tempfloat = tempfloat – ((float)digit * tens);
tens /= 10.0;
}
if (places <= 0) return;
lcd.print('.');
for (i = 0; i < places; i++)
{
tempfloat *= 10.0;
digit = (int) tempfloat;
lcd.print(digit,DEC);
tempfloat = tempfloat – (float) digit;
}
}
// ==================================================================================
byte decToBcd(byte val)
{
return ( (val/10*16) + (val%10) );
}
// ==================================================================================
byte bcdToDec(byte val)
{
return ( (val/16*10) + (val%16) );
}
// ==================================================================================
void setDateM41T80() // 0-99
{
Wire.beginTransmission(M41T80_I2C_ADDRESS);
Wire.write(0x04);
Wire.write(decToBcd(dayOfWeek));
Wire.write(decToBcd(dayOfMonth));
Wire.write(decToBcd(month));
Wire.write(decToBcd(year));
Wire.endTransmission();
}
// ==================================================================================
void setHourM41T80() // 0-99
{
Wire.beginTransmission(M41T80_I2C_ADDRESS);
Wire.write(0x00);
Wire.write(decToBcd(msecond));
Wire.write(decToBcd(second) & 0x7F); // 0 to bit 7 starts the clock
Wire.write(decToBcd(minute));
Wire.write(decToBcd(hour)); // If you want 12 hour am/pm you need to set
Wire.endTransmission();
}
// ==================================================================================
void getDateM41T80()
{
Wire.beginTransmission(M41T80_I2C_ADDRESS);
Wire.write(0x00);
Wire.endTransmission();
Wire.requestFrom(M41T80_I2C_ADDRESS, 8);
msecond = bcdToDec(Wire.read());
second = bcdToDec(Wire.read() & 0x7f);
minute = bcdToDec(Wire.read());
hour = bcdToDec(Wire.read() & 0x3f); // Need to change this if 12 hour am/pm
dayOfWeek = bcdToDec(Wire.read());
dayOfMonth = bcdToDec(Wire.read());
month = bcdToDec(Wire.read());
year = bcdToDec(Wire.read());
Wire.endTransmission();
}
// ===================================================================
void timer1Isr()
{
Buttons.loopCheck();
readButtons(BUTTON);
}
// ===================================================================
void timer2Isr()
{
}
// ===================================================================
void readButtons(byte i)
{
if(i == 255) BUTTON = 0;
else BUTTON = i;
}
// ===================================================================
void beepBuzzer(unsigned long hz, unsigned long ms)
{
unsigned long us = (750000 / hz);
unsigned long rep = (ms * 500L) / us;
for (int i = 0; i < rep; i++)
{
digitalWrite(BUZZER_PIN, HIGH);
delayMicroseconds(us);
digitalWrite(BUZZER_PIN, LOW);
delayMicroseconds(us);
}
}
// ===================================================================
void messageScreen()
{
int space = 4;
lcd.clear();
printOneLetter(A_,0);
printOneLetter(R_,space);
printOneLetter(D_,2*space);
printOneLetter(U_,3*space);
lcd.setCursor(15,2);
lcd.print("CLOCK");
lcd.setCursor(16,3);
lcd.print("V1.0");
}
// ===================================================================
void splashScreen()
{
repeatScroll();
getDateM41T80();
show();
displayTime(0, Row3);
displayDate(9, Row3);
}
// ===================================================================
void navigateMenus()
{
MenuItem currentMenu = menu.getCurrent();
Button = BUTTON;
switch (BUTTON)
{
case SELECT:
beepBuzzer(1150,20);
if(!(currentMenu.moveDown()))
{
menu.use();
}
else
{
menu.moveDown();
}
break;
case ESCAPE:
beepBuzzer(1150,20);
menu.toRoot();
break;
case RIGHT:
beepBuzzer(1150,20);
menu.moveRight();
break;
case LEFT:
beepBuzzer(1150,20);
menu.moveLeft();
break;
case UP:
beepBuzzer(1150,20);
menu.moveUp();
break;
case DOWN:
beepBuzzer(1150,20);
menu.moveDown();
break;
}
BUTTON = NONE;
}
// ===================================================================
void displayAlarm(int col, int row)
{
lcd.setCursor(col,row);
if (alarmHour < 10)
{
lcd.print("0");
}
lcd.print(alarmHour, DEC);
lcd.print(":");
if (alarmMinute < 10)
{
lcd.print("0");
}
lcd.print(alarmMinute, DEC);
}
// ===================================================================
void displayTime(int col, int row)
{
lcd.setCursor(col,row);
if (hour < 10)
{
lcd.print("0");
}
lcd.print(hour, DEC);
lcd.print(":");
if (minute < 10)
{
lcd.print("0");
}
lcd.print(minute, DEC);
lcd.print(":");
if (second < 10)
{
lcd.print("0");
}
lcd.print(second, DEC);
delay(500);
}
// ===================================================================
void displayAlarmTime(int col, int row)
{
lcd.setCursor(col,row);
if(alarmHour == 255) alarmHour = 0;
if(alarmMinute == 255) alarmMinute = 0;
if (alarmHour < 10)
{
lcd.print("0");
}
lcd.print(alarmHour, DEC);
lcd.print(":");
if (alarmMinute < 10)
{
lcd.print("0″);
}
lcd.print(alarmMinute, DEC);
delay(500);
}
// ===================================================================
void displayDate(int col, int row)
{
lcd.setCursor(col,row);
lcd.print(Day[dayOfWeek]);
lcd.print(" ");
if(dayOfMonth < 10)
{
lcd.print("0″);
}
lcd.print(dayOfMonth, DEC);
lcd.print(" ");
lcd.print(Mon[month]);
lcd.print(" 20″);
if (year < 10)
{
lcd.print("0");
}
lcd.print(year, DEC);
delay(500);
}
// ===================================================================
void concatenateData()
{
int i;
byte b;
byte mo, tu, we, th, fr, sa, su = 0;
buildFlags = EEPROM.read(ALARM_FLAG_EEPROM_ADDRESS);
//===================================================DEBUG DEBUG DEBUG
// lcd.setCursor(5,1);
// lcd.print(buildFlags,BIN);
//===================================================DEBUG DEBUG DEBUG
mo = (buildFlags & B10000000);
if(mo == B10000000) mo = 0;
else{
mo = 7;
}
tu = (buildFlags & B01000000);
if(tu == B01000000) tu = 1;
else{
tu = 7;
}
we = (buildFlags & B00100000);
if(we == B00100000) we = 2;
else{
we = 7;
}
th = (buildFlags & B00010000);
if(th == B00010000) th = 3;
else{
th = 7;
}
fr = (buildFlags & B00001000);
if(fr == B00001000) fr = 4;
else{
fr = 7;
}
sa = (buildFlags & B00000100);
if(sa == B00000100) sa = 5;
else{
sa = 7;
}
su = (buildFlags & B00000010);
if(su == B00000010) su = 6;
else{
su = 7;
}
memset(dataBuffer, ' ', (DATA_LENGTH-1));
snprintf(dataBuffer, (DATA_LENGTH-1), "ALARM SET AT: %02d:%02d, REPEAT: %02s %02s %02s %02s %02s %02s %02s ", alarmHour, alarmMinute, DAY[mo], DAY[tu], DAY[we], DAY[th], DAY[fr], DAY[sa], DAY[su]);
for(i = 0; i<3; i++)
{
dataBuffer[(DATA_LENGTH-2)+i] = ' ';
}
//===================================================DEBUG DEBUG DEBUG
// lcd.setCursor(5,0);
// lcd.print(buildFlags,BIN);
//===================================================DEBUG DEBUG DEBUG
}
// ===================================================================
void concatenate()
{
int i;
measureTemperature();
getDateM41T80();
memset(timeBuffer, ' ', (MESSAGE_LENGTH-1));
snprintf(timeBuffer, (MESSAGE_LENGTH-1), "%02d:%02d:%02d %s, %02d %s 20%02d %02d.%d\u00B2C ", hour, minute, second, Day[dayOfWeek], dayOfMonth, Mon[month], year, integerPart, decimalPart);
for(i = 0; i<3; i++)
{
timeBuffer[(MESSAGE_LENGTH-2)+i] = ' ';
}
}
// ===================================================================
void scrollDataDisplay(int line, int speed)
{
int i;
if(g_nPosition < DATA_LENGTH – DISPLAY_WIDTH)
{
for(i=0; i<DISPLAY_WIDTH; i++)
{
lcd.setCursor(i, line);
lcd.print(dataBuffer[g_nPosition + i]);
lcd.print(dataBuffer[56] = ' ');
}
}
else
{
int nChars = DATA_LENGTH – g_nPosition;
for(i=0; i<nChars; i++)
{
lcd.setCursor(i, line);
lcd.print(dataBuffer[g_nPosition + i]);
lcd.print(dataBuffer[56] = ' ');
}
for(i=0; i<(DISPLAY_WIDTH – nChars); i++)
{
lcd.setCursor(nChars + i, line);
lcd.print(dataBuffer[i]);
lcd.print(dataBuffer[56] = ' ');
}
}
g_nPosition++;
if(g_nPosition >= DATA_LENGTH)
{
g_nPosition = 0;
}
delay(speed);
}
// ===================================================================
void scrollDisplay(int line, int speed)
{
int i;
if(g_nPosition < MESSAGE_LENGTH – DISPLAY_WIDTH)
{
for(i=0; i<DISPLAY_WIDTH; i++)
{
lcd.setCursor(i, line);
lcd.print(timeBuffer[g_nPosition + i]);
lcd.print(timeBuffer[34] = ' ');
}
}
else
{
int nChars = MESSAGE_LENGTH – g_nPosition;
for(i=0; i<nChars; i++)
{
lcd.setCursor(i, line);
lcd.print(timeBuffer[g_nPosition + i]);
lcd.print(timeBuffer[34] = ' ');
}
for(i=0; i<(DISPLAY_WIDTH – nChars); i++)
{
lcd.setCursor(nChars + i, line);
lcd.print(timeBuffer[i]);
lcd.print(timeBuffer[34] = ' ');
}
}
g_nPosition++;
if(g_nPosition >= MESSAGE_LENGTH)
{
g_nPosition = 0;
}
delay(speed);
show();
}
// ===================================================================
void repeatScroll()
{
boolean hide = 0, noHide = 1;
readButtons(BUTTON);
do
{
if((hide == 0) && (noHide == 1))
{
concatenate();
scrollDisplay(3, 350);
}
if(alarmFlag == true)
{
lcd.setCursor(0,1);
lcd.print("*");//248
}
else if(alarmFlag == false)
{
lcd.setCursor(0,1);
lcd.write(32);
}
checkAlarm();
if(BUTTON == LEFT)
{
hide = 1;
noHide = 0;
lcd.clear();
printTwoNumber(alarmHour,1);
printColons(9);
printTwoNumber(alarmMinute,11);
if(alarmFlag == true)
{
lcd.setCursor(19,2);
lcd.print("*");
lcd.setCursor(19,0);
lcd.print("A");
lcd.setCursor(19,1);
lcd.print("L");
}
if(alarmFlag == false)
{
lcd.setCursor(19,2);
lcd.print(" ");
lcd.setCursor(19,0);
lcd.print(" ");
lcd.setCursor(19,1);
lcd.print(" ");
}
if((hide == 1) && (noHide == 0))
{
concatenateData();
scrollDataDisplay(3, 350);
}
}
if(BUTTON == RIGHT)
{
alarmFlag = !alarmFlag;
delay(500);
}
}
while(BUTTON != ESCAPE);
lcd.clear();
}
// ===================================================================